Have you ever wondered what all the traffic sources listed in your YouTube analytics mean?
Some of them are straightforward - like Playlists and YouTube Advertising - but others, like Browse Features, are vague and confusing. If you're looking for answers, you've come to the right place!
Our guide features YouTube traffic sources explained in simple terms, so you can make the most of your YouTube analytics data and build a successful YouTube channel.
Table of Contents:
Where To Find Traffic Sources In YouTube Analytics
Want to know where your viewers are coming from? You can view the source of your video's traffic by visiting YouTube Studio and following the steps below:
Click the Content option in the far left menu bar.

Click the YouTube video of your choice.

From the Overview page you will be able to see the total view count and adjust the custom date range if needed.

Click the Reach tab.

Scroll down to the 'How Viewers Find This Video' section and click See More.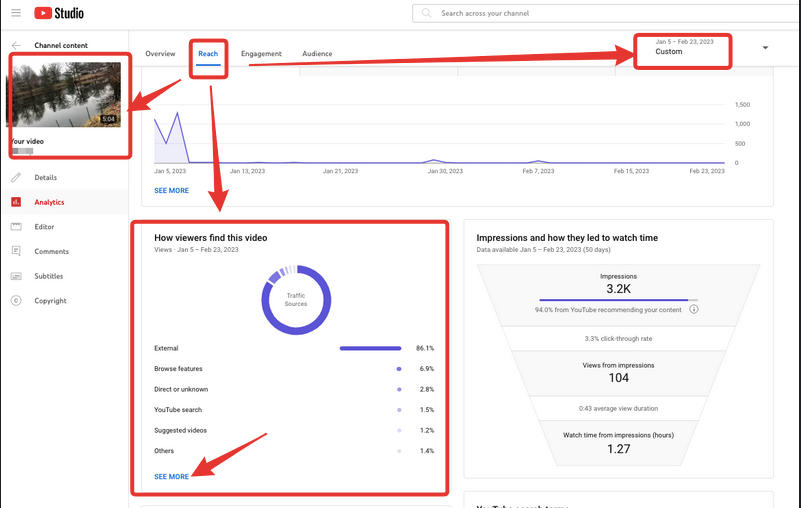 Click the Traffic Source tab.
You will then be able to see a breakdown of the various sources of traffic on your chosen video.
To view the individual traffic sources in more detail, follow the steps below:
Click "Advanced Mode" on the top right corner of the screen.

Select "Traffic Source"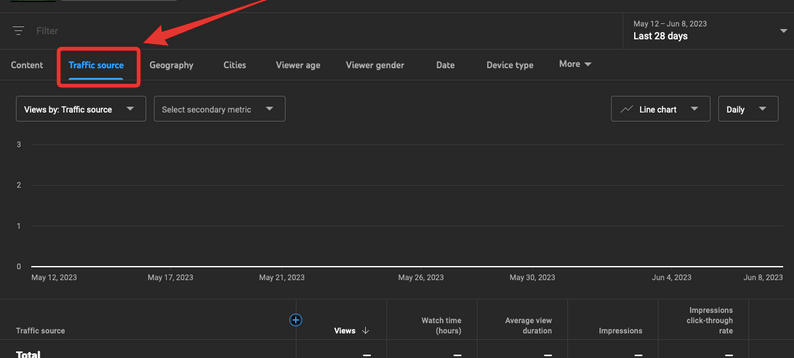 You will now be able to click each individual traffic source to view additional details.
Traffic Source: Channel Pages
Channel pages are the individual tabs within YouTube channels that feature different video types and additional information on the channel.

Creators can choose to feature the following channel pages (or tabs):
Home

Videos

Shorts

Live

Playlists

Community

Channels

About
The first tab, the Home tab, is the most important of all Channel pages as it is the landing page that viewers access when visiting your channel for the first time.
It's therefore important to organize this page strategically in order to maximize clicks and views.
Tip: Your first section should always be Recent Uploads, with additional playlists being featured to encourage users to watch content that you've curated yourself.
Traffic Source: Direct or Unknown
Direct or unknown traffic is, well, unknown. This means that YouTube doesn't know where this traffic is coming from, but it could be obtained from any of the following methods:
Unrecognized apps

Bookmarks (if you bookmark a video and click to watch it later)

Direct URL typing (rather than clicking the link within a site)
Traffic Source: End Screens
These are the links and cards that appear at the end of YouTube videos that encourage viewers to watch related content curated by you.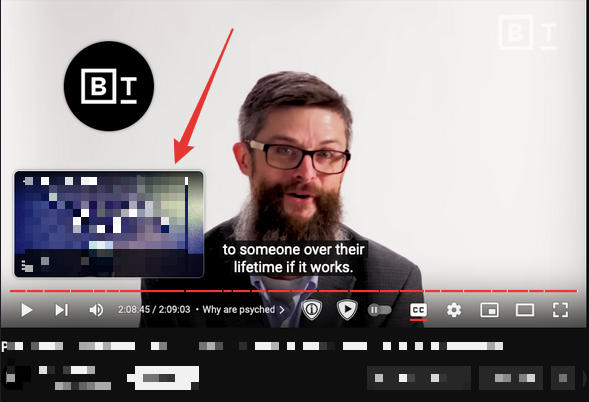 When a viewer clicks on one of these cards or links, it results in End Screen traffic.
Tip: If you want viewers to return to your content as soon as the video is over, the end screen is the way to go! Include relevant videos to encourage viewers to continue watching your content.
Traffic Source: External Traffic Source
External traffic includes traffic from outside websites that refer directly to your video via links and embeds.
This includes:
Search engines

YouTube video player embeds

Social media

Messaging apps
Traffic Source: Hashtag Pages
Hashtag pages are dedicated YouTube pages that feature hashtags and allow users to browse for that specific keyword.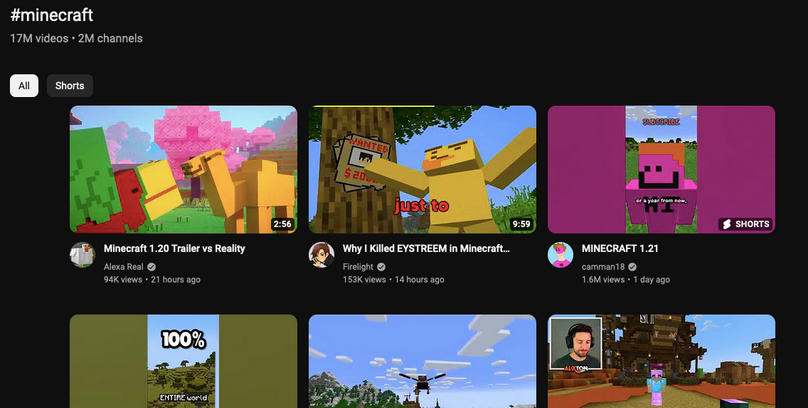 You can visit a hashtag page by inputting your desired hashtag in the following example URL:

https://www.youtube.com/hashtag/example
By clicking on the Hashtag Page traffic source, you can see which specific hashtags resulted in views.
You can include hashtags in your video description or beneath a video (if a location is not chosen). When a user clicks one of these hashtags, they will be directed to a hashtag page.
Traffic Source: Notifications
Users can click the bell icon to receive notifications for new content.

When the user receives an alert and clicks the notification to watch your content, it results in Notification traffic.
Tip: You can encourage your viewers to click the bell icon to receive notifications on new content.
Traffic Source: Other YouTube Features
This is an amalgamation of any additional traffic from within YouTube's ecosystem.
This includes:
Creator Studio clicks

YouTube URL shortening service (youtu.be)

Offline views from within the YouTube app

YouTube remote
Traffic Source: Playlists
This is engagement that comes from watching content within a playlist.
Tip: Curate playlists of related content to keep users watching your videos. Don't go overboard! Try to keep playlists brief rather than including hundreds of videos.
Traffic Source: Playlist Page
This is the page or tab on a specific YouTube Channel that features all Playlists created by that channel.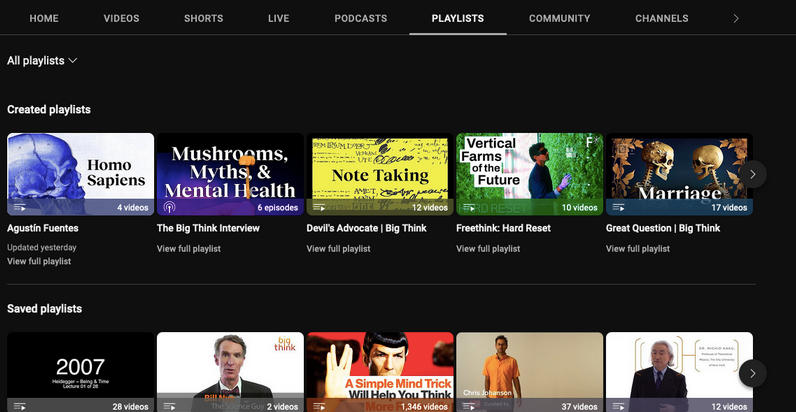 Any clicks on playlists on this page that result in views will result in Playlist Page traffic.
Traffic Source: Product Pages
On YouTube Mobile, there are automatically generated product sections. When a user searches for a product on YouTube, they may get an option to browse and shop the product.
Beneath this, YouTube displays videos related to the product in question. When a user clicks on one of these videos, it results in Product Pages traffic.
You can learn more about Product Pages traffic here.
Note: This feature is currently only available in the US, India, and Brazil.
Traffic Source: Shorts Feed
The Shorts Feed is a YouTube mobile feature that gathers Shorts videos in one place. When a user views your video from the Shorts Feed, it results in this traffic source.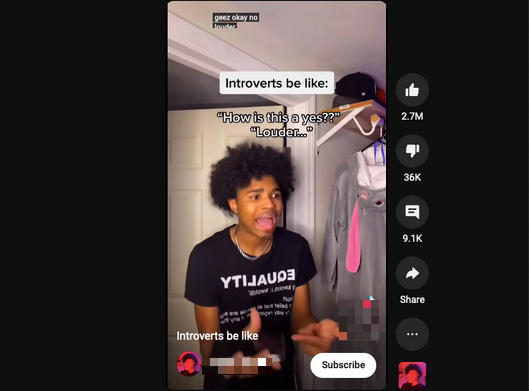 Note: Shorts views will only appear as Shorts Feed traffic when viewed from a mobile app.
Traffic Source: Video Cards
Video cards are the notifications that appears at the top right corner of a video during viewing.
When a viewer clicks this card, it may lead them to another video, exiting the current one.
Traffic Source: YouTube Advertising
The only way to receive YouTube Advertising traffic is to purchase ads. If your video is used as an advertisement, it will result in this traffic source.
Traffic Source: YouTube Browse Features
This encompasses a large range of YouTube features.
Browse features include:
Home (videos that appear on YouTube's homepage)

Watch History

Subscriptions

Watch Later

Trending

Personalized Playlists
Traffic Source: YouTube Search
When a user searches for a keyword within YouTube and clicks on your video in the results, that becomes YouTube Search traffic.
If you click on the YouTube Search traffic source, you can see all of the keywords that your video is currently ranking for.
Traffic Source: YouTube Suggested
YouTube's suggested videos are displayed on the right side of the video (on desktop) or beneath the current video (on mobile).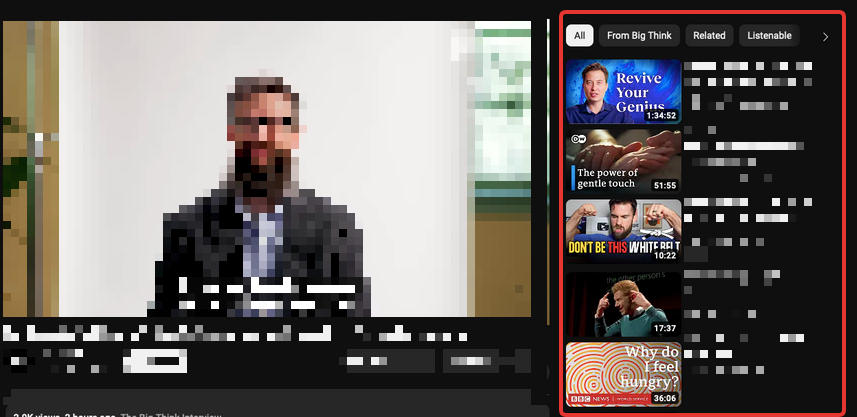 These are videos that YouTube's suggested algorithm considers relevant and high-value in relation to the video that users are currently watching.
When you click on this traffic source, you can see which specific videos are referring to yours.
Tip: Browse these other channels for content ideas!