For many, YouTube's integration with Gmail is a matter of convenience. But if you're not a Gmail user, or prefer to keep your accounts separate, it's definitely possible to create a YouTube account with a non-Gmail email address.
Let's get started!
Table of Contents:
How To Create A YouTube Account Without A Gmail Account
Due to YouTube's Google integration, there's currently no way to directly create a YouTube account without a Google account. However, you can create a Google account with a non-Gmail email account which will then allow you to access YouTube.
Here's how to get started:
Visit Google's Sign Up Without Gmail page.
Enter your details, including your non-Gmail email address.
You'll then receive a code in your non-Gmail email inbox.
Input the verification code into the Google signup and click Next.
Add age, gender, and any optional information you choose.
Agree to the Terms and Conditions.
Once your signup is successful, you'll be automatically logged into YouTube with your new Google account.
NOTE: Users who signed up for a YouTube account before Google's acquisition may still have the ability to sign in to YouTube with their original email address.
How To Browse YouTube Without Signing In At All
Want to browse YouTube without signing in at all? If you're accessing YouTube from someone else's device, or simply want the freedom of browsing without personalized recommendations, you can explore YouTube without limitations while logged out.
Alternatively, you can use a Private or Incognito window to avoid signing any existing users out of their YouTube accounts.
The benefit of doing this is that no tracking or search history will be saved, but you won't receive personalized recommendations and you won't be able to subscribe to any channels. Certain engagement features, like commenting, will also be unavailable.
How To Protect Your Privacy While Browsing YouTube
If you've opted to remain logged in while you watch YouTube videos, but are still concerned about your privacy and data collection, there are a few precautions you can take to keep things as secure and private as possible.
Use A Separate Account For Different Services
One option for maintaining your digital privacy is to create separate Google accounts for different Google services.
This means using one Gmail login to create a YouTube account, another for sending and receiving emails, one for using the Google Play store, another for utilizing Google Photos or Google Drive, and so on.
This can get confusing, which is why many users either stick with Google Suites or opt for an entirely different digital ecosystem altogether.
Adjust Privacy Settings & Disable Tracking
Adjusting privacy settings and disabling tracking on YouTube can give you more control over your online privacy. There are a few different settings you can choose to toggle depending on your needs.
Here's how to begin:
Sign in to YouTube.
Click your profile picture in the upper right corner, then choose Manage My Google Account.
From the left sidebar, click Data & Privacy.
On this page you will be able to adjust:
History Settings

Ad Personalization

Search Settings

Location Sharing

...and more
You can find detailed instructions on how to adjust specific settings below...
Turn Off Watch & Search History
YouTube maintains a history of the videos you watch and the searches you make. While this can be convenient for looking back on past favorites, it can also be invasive, especially if you share a device with a friend or family member.
If you want to turn off your watch and search history, you can follow the steps below:
NOTE: These instructions will turn off any future saved watch and search history, but you will still have to clear past data manually after following these steps to clear everything.
Sign in to YouTube.
Click your profile picture in the upper right corner, then choose Manage My Google Account.

From the left sidebar, click Data & Privacy.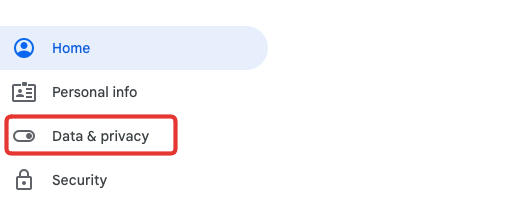 Under History Settings click on YouTube History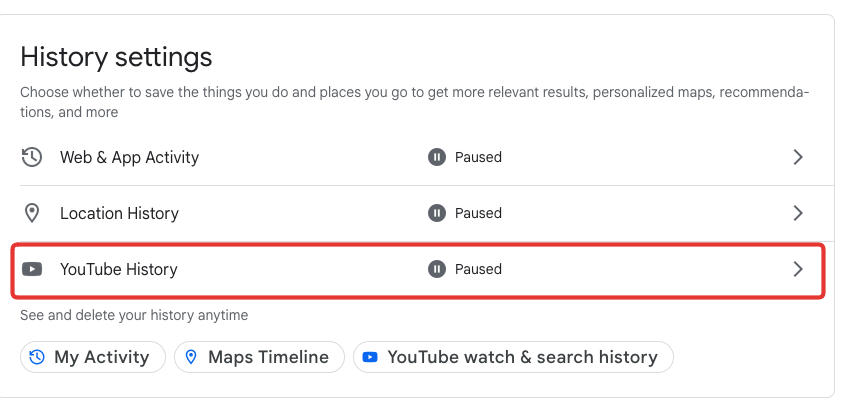 From here, toggle history OFF & uncheck the two boxes below.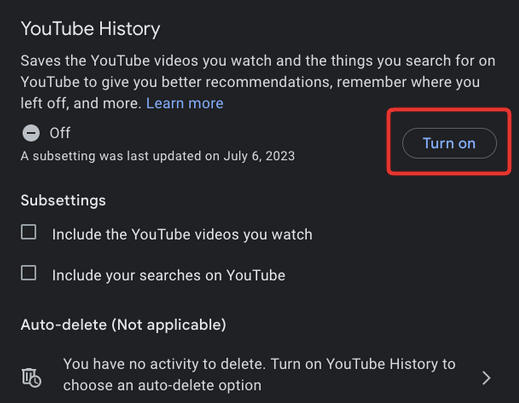 If you have a previous history to delete, click Manage History.
From here, click DELETE on the bottom right corner.
And that's it! YouTube will stop storing your search and watch history until you turn this setting back on.
Make Your Subscriptions Private
Sign in to YouTube

Click your profile picture in the upper right corner

Choose Settings

Choose Privacy from the left menu

Under Subscriptions toggle Keep all my subscriptions private.
Disable Tracking (Ad Personalization)
YouTube's tracking for ad personalization is managed through your Google account.
To adjust these settings visit My Ad Center and toggle Personalized Ads OFF on the top right corner.
NOTE: When you toggle this setting off, it will prevent Google from using your data to personalize ads. You'll still see ads; they just won't be tailored based on your personal data.
By adjusting these settings you can ensure that YouTube (and therefore Google) is storing the least amount of personal data possible, allowing you to browse with more freedom. However, if you'd like to browse fully private, not signing in at all (or signing in with a dedicated account for YouTube) might be your best option.