Looking to share your Discord server with friends, but not sure how to find the right invite link you need? Or maybe you want to add or invite friends, or share a post link in a DM?
Learn how to get your Discord link, create a custom invite link, and more with our in-depth guide.
Table of Contents:
What Is My Discord Link?
A Discord link is a URL that leads to a specific Discord server or Discord post. Additionally, you can share your Discord username so that others can add you as as a friend.
Once you have generated your invite link, you can share it with anyone you'd like to invite to the server. By sharing a Discord post link, the recipient can view the specific post within a Discord server and channel.
Does The Discord Server Have To Be Public?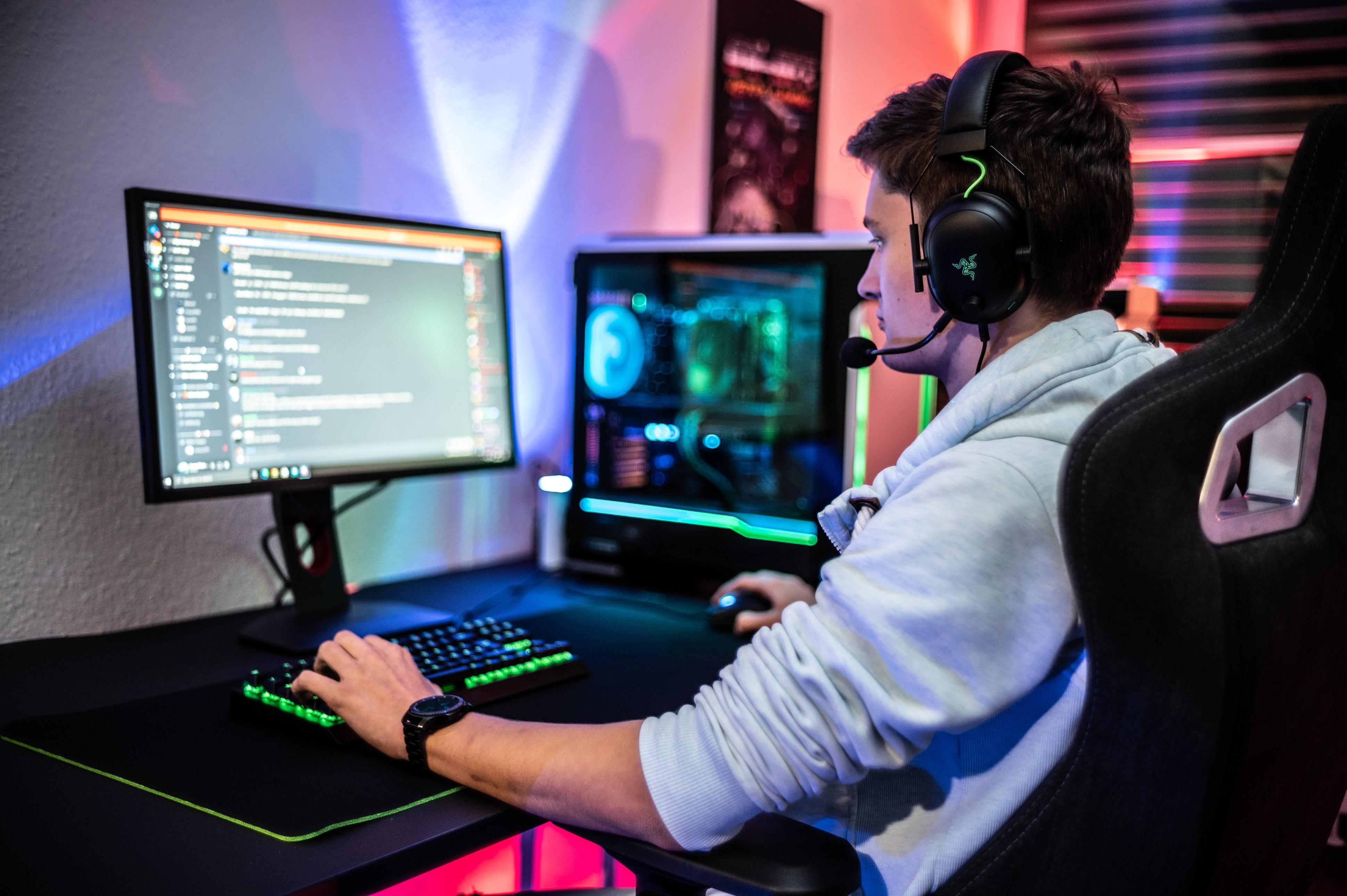 To generate a Discord invite link, you have to be a member of the server with invite permissions.
Many Discord servers allow their members to invite other users freely, however if you are unable to follow the steps outlined in this guide it may mean that you do not have the proper permissions.
To share a Discord post link, the recipient has to be able to access the server or DM that the post was sent in.
Do I Have To Be The Owner Of The Discord Server?
No, you don't have to be the owner of the server to create an invite, but you will have to have invite permissions.
Many Discord servers are public, and allow all members to invite other Discord users, but if you're unsure you can ask the admin of your server.
Can I Find The URL From The Discord App?
Yes, you can find all the necessary links from the Discord desktop app, web version, and the mobile app. You will find instructions for all three methods in our guide below.
How To Find Your Discord Server Invite Link
If you'd like to invite people to a secure Discord server, you can do so by creating a new invite link.
To see whether your server allows invitations, click the server title to open the server menu and click Invite People.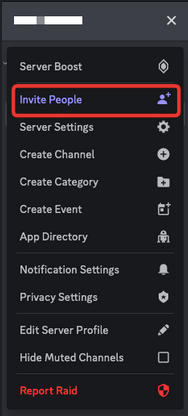 This will open a popup that allows you to search for a friend or browse your friends list.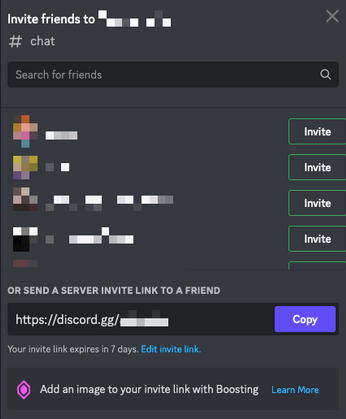 You can click the green Invite button to invite a friend directly, or if you'd like to invite someone who isn't on Discord or isn't on your friends list, you can copy the server invitation link at the bottom.
The Discord Server link should have one of the following formats:
https://discord.com/invite/a1b2b3b1
How To Change Invite Link Settings
You can edit invite link settings to create a custom invite link depending on your needs.
To do this, access the invite link settings menu and click 'Edit Invite Link' below the instant invite link.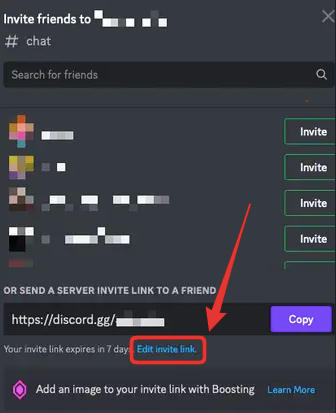 From here, you will have three customization options:
expiration date
max number of uses
grant temporary membership
You can adjust all of these settings from the same location on both the Discord desktop app, web version, and mobile app.
Set A Link To Expire After A Certain Period Of Time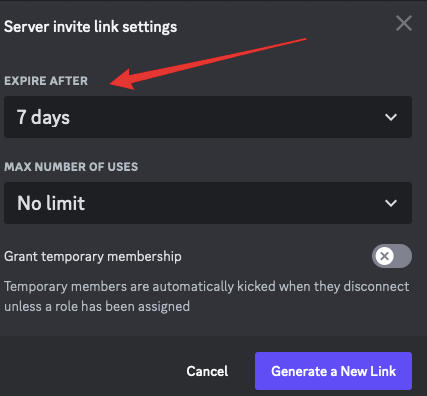 The first drop down menu within the Discord invite menu allows you to set an expiration date for your own invite links.
This means that a certain number of days after the link is generated, it can no longer be used to invite people.
By default, invite links expire after 7 days but you can easily increase the timeframe or remove the expiration altogether.
Invite link expiration options include:
30 minutes

1 hour

6 hours

12 hours

1 day

7 days (default)

Never
Set A Maximum Number Of Uses For An Invite Link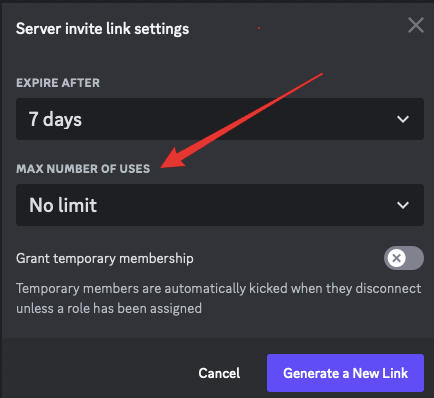 Alternatively, from the second drop down menu you can change the settings of your invite links so that after a certain number of people have used them, they will no longer work.
You can set the max number of uses alongside the expiration date.
Maximum number of uses options include:
No limit

1 use

5 uses

10 uses

25 uses

50 uses

100 uses
Grant Temporary Membership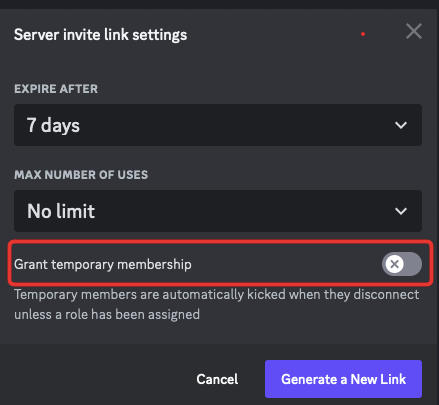 You can also grant a user temporary membership to your own server by toggling the Grant Temporary Membership option.
When activated, the Discord invite link is customized and temporary members are automatically kicked when they disconnect unless a role has been assigned to them by a server admin.
How To Find Your Discord Post Link
To share a specific post with another user, the recipient of the link will need to be a member of the server or DM that the post was sent in.
Click the three dots to the right of the post

Select 'Copy Message Link'.
The Discord post link should be in the following format:
https://discord.com/channels/@username/12345667/1087104836216033460
How To Find Your Discord Username
Your Discord tag or username allows other users to add you as a friend or invite you to a server.
Find Your Username On Desktop
You can find your username on the bottom left corner next to your profile image.
It should look something like this:
Username#1234
Find Your Username On Mobile
You can find your username by clicking your profile image on the bottom right corner.
It should look something like this:
Username#1234
IMPORTANT: Discord tags are case sensitive. Please ensure that you have included upper or lower case letters exactly as they appear in your Discord profile.
How To Add Friends On Discord
You can add friends by inputting their username into the Find Friends section.
To do this, click your main Discord page on the top left side of the page.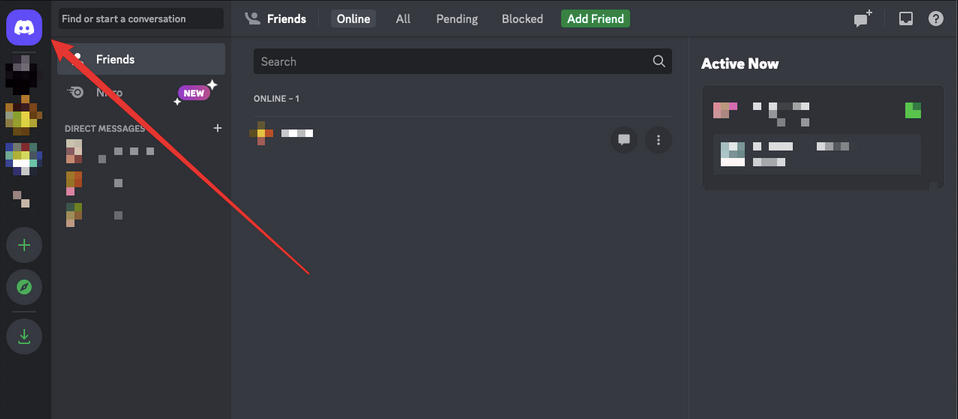 From here, select the green Add Friend button.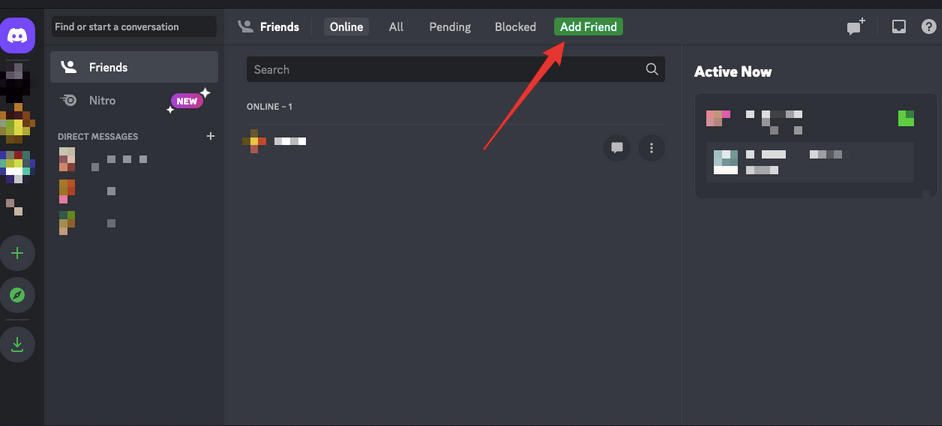 This is where you can input the username of the friend you wish to add.
Note: As of May 2023, Discord usernames will no longer be case sensitive or in the format mentioned below. Usernames will now be unique and preceded by the @ symbol.
Remember: all usernames are case sensitive. If your friend is not receiving the request, it may be because there is a missing or added capital letter.
All usernames follow the same format: Username#0000. Below is an example of what that looks like in your username field: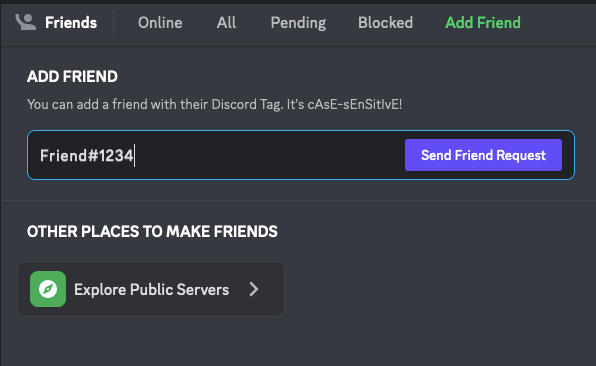 Once you've typed in the correct information, hit the purple Send Friend Request button.

If your request is accepted, you'll see your friend added to your Friends list and you will then be able to send them a direct message and invite them to a group chat or server.