Since its inception in 2005, YouTube has been the starting point for countless influencers and video personalities. With over 35 million subscribers, Mark Fischbach - known by his YouTube persona Markiplier - is one of the internet's most successful creators.
Today we'll be diving into the foundations of Markiplier's YouTube channel, its expansion, collaborations, and the legacy and impact that his content has had on the wider internet.
Table of Contents:
Who Is Markiplier?
Markiplier, born Mark Edward Fischbach, is a YouTube celebrity known for his work in content creation, philanthropy, and sketch comedy. Outside of YouTube, Fischbach works as a voice actor for the Cartoon Network series Villainous.
While his initial channel (named "Markiplier") was created on May 26, 2021, Markiplier was forced to abandon it due to technical issues with AdSense. Shortly after, he created his new and current channel called "MarkiplierGAME", now renamed as the original "Markiplier", marking the start of a YouTube journey that changed the landscape of the online gaming community.
Markiplier quickly attracted a growing fanbase due to his entertaining commentary during playthroughs of games like Five Nights At Freddy's and Amnesia. Over time, Markiplier diversified his content by introducing sketch comedy videos and "Try Not To Laugh" challenge videos. The expansion was well-received and propelled his subscriber count into the millions. By 2015, Markiplier had already accrued over 8 million subscribers and appeared on Jimmy Kimmel Live.
Beyond his content creation, Markiplier has stood out for his philanthropic initiatives, using his platform to raise money for various charities including the Best Friends Animal Society.
With over 35 million subscribers as of June 2023, Markiplier continues to make his mark in the YouTube gaming community.
Early Life & YouTube Beginnings
Mark Edward Fischback was born June 28, 1989 in Honolulu, Hawaii. He spent the majority of his childhood in Cincinnati, Ohio, alongside his older brother Thomas.
On May 26, 2012, Markiplier launched his first YouTube channel under the name "Markiplier" (a combination of his name and the word "multiplier"). The channel initially featured gameplay videos with his signature commentary, a format that quickly gained traction among viewers.
Launching MarkiplierGAME
His first video was a playthrough of the trending horror game Amnesia: The Dark Descent. The success of this initial video laid a strong foundation for YouTube success, but obstacles soon arose due to the AdSense account linked to his channel being banned. Prevented from monetizing his content, Markiplier immediately created a new channel, "MarkiplierGAME" (later renamed to the original "Markiplier").
Building The Channel: 2012-2015
In the early years of his channel, Markiplier focused on primarily creating Let's Play videos. These videos feature creators recording themselves playing video games, providing commentary and reactions in real time. The effect is an immersive gaming experience that many viewers feel is as close as possible to playing the games themselves.
Let's Play videos quickly became a signature of the MarkiplierGAME channel and attracted a dedicated audience. The breakthrough for Markiplier's channel came with his video series on two hugely popular horror games: Five Nights At Freddy's and Amnesia.
Both playthroughs were a massive success and contributed significantly to the growing popularity of the MarkiplierGAME channel. In 2014, Markiplier's channel hit a milestone of 1 million subscribers.
Diversification & Expansion: 2015 Onwards
In an effort to diversify his content and appear to a wider audience, Markiplier integrated new content formats alongside his game series including comedy sketches and "Try Not To Laugh" challenge videos.
These videos highlighted comedy and lighthearted content, providing a welcome contrast from the intense gaming sessions that focused on horror and action video games.
By 2015, his subscriber count had soared to 8 million, expanding his already substantial audience and introducing a broader demographic of viewers.
Philanthropy & Charity Live Streams
Eventually, Markiplier began using his influence and growing platform for philanthropic initiatives, introducing charity livestreams. During these streams, Markiplier would play games for an extended period while interacting with his fans and encouraging them to donate to various causes. This led to the collection of millions of dollars for various charities.
Reception of these charity live streams was overwhelmingly positive, and resulted in even further growth while fostering a strong sense of community among his viewers.
Collaborations & New Ventures
Ranging from simple guest appearances to joint gaming sessions, collaborations have played a significant role on the "Markiplier" channel. Through collaboration, Markiplier expanded his audience reach and brought diverse content to his channel.
Unnus Annus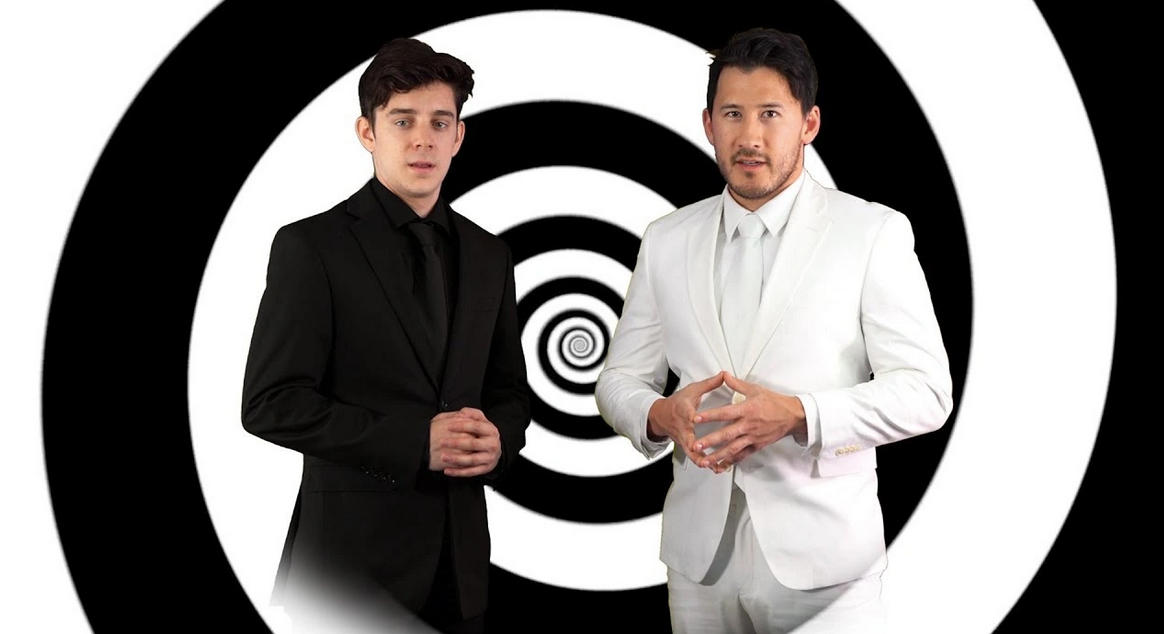 One notable collaboration was the launch of the "Unus Annus" channel co hosted with fellow YouTuber Ethan Nestor (popularly known as CrankGameplays). The channel ran from November 2019 to November 2020 and was designed to exist for exactly one year, after which all content was deleted.
The experimental project was a huge success, garnering over 4.5 million subscribers before its deletion in November 2020.
Markiplier's Legacy & Impact
As of 2023, Markiplier's subscriber count has surpassed 35 million, making him one of the most popular content creators on YouTube and a pillar of the online gaming community.
Multiple channels built around Markiplier's content have flourished, including MarkiplierSINGSbadly, a music channel dedicated to remixing Markiplier's original content.
Outside of his YouTube career, Markiplier continues to pursue philanthropy, guest appearances, and voice acting.