Embedding allows you to insert a YouTube video into another website, allowing users of that site to view your video wherever the URL is inserted. When it comes to buying YouTube services such as YouTube Views, oftentimes you will need to have Embedding enabled on your video to successfully place an order.


It's best practice to keep Embedding enabled on all of your videos, but sometimes it may be necessary to disable it. However, it can prevent you from placing an order for YouTube Views. In this guide, you'll learn how to enable Embedding on a YouTube video of your choice.


If you are getting the Embed disabled error message, you must enable Embed or you choose a different Views service that does not require Embed to be enabled. You can find instructions below for how to enable Embedding on the video.
Disclaimer: Rank & Monetization

QQTube is a middleman bringing together buyers and sellers.
We have no control over what will make your video/channel/account/profile rank, go viral, or trend. We can not offer any advice on this matter, we simply offer services that may help you achieve your goals. We offer no guarantees regarding the effect that the services offered on our site may have over the long-term popularity of your video/channel/account/profile.
​
We offer a variety of services from many different providers and they rarely give us specifics about how their delivery methods work. However, we do not offer or allow services that would increase ad revenue.

How To Enable Embedding On A YouTube Video
Sign in to your YouTube account
Click your profile picture and navigate to YouTube Studio
Select the Content option in the left side menu

From there, click Details (the pencil icon) next to the video of your choice.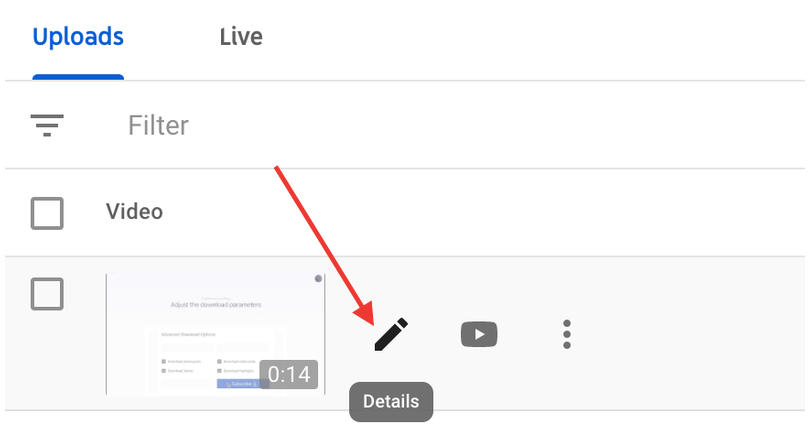 Now, scroll all the way down to Show more and select Advanced Settings.
Next, navigate to License and "Distribution Options" and clear the Allow embedding checkbox below.
Click Save changes.
IMPORTANT: If you follow these steps to enable Embed and your order still won't go through it could be that your video has copyright content and is licensed to someone else and they have Embed disabled. In this case, you will need to choose a different Views service that does not require Embed to be enabled.



Check out our Services & Pricing page to view our amazing selection of social media marketing services, and our New Order page to learn more about each one!


Want even more amazing tips & tricks from the professionals? Check out the rest of our blog for even more in-depth guides and industry expertise!