YouTube Masthead ad units are ads that appear in the YouTube Home feed on any device type, advertising your brand or service effectively and efficiently.
Today we'll take a deep dive into YouTube Masthead ads so you can make an educated choice when it comes to advertising options.
Let's get started!
Table of Contents:
YouTube Masthead Video Ad Basics
YouTube Masthead ads are YouTube ads that appear in the YouTube Home feed. They are native video-based ads that can be purchased by contacting a Google sales representative.
What Type Of Masthead Ads Can I Buy?
There are currently two types of masthead ads:
Cost-Per-Impression (CPM) Masthead: With this type, you reserve a fixed volume of impressions which are delivered over the course of your campaign.
Cost-Per-Hour (CPH) Masthead: With this type, you reserve a number of hours and will receive impressions within that time period.
Where Does A Masthead Ad Unit Run?
Masthead ads appear at the top of YouTube's homepage, but depending on the type of device you're using there can be some variations on how exactly they appear.
Desktop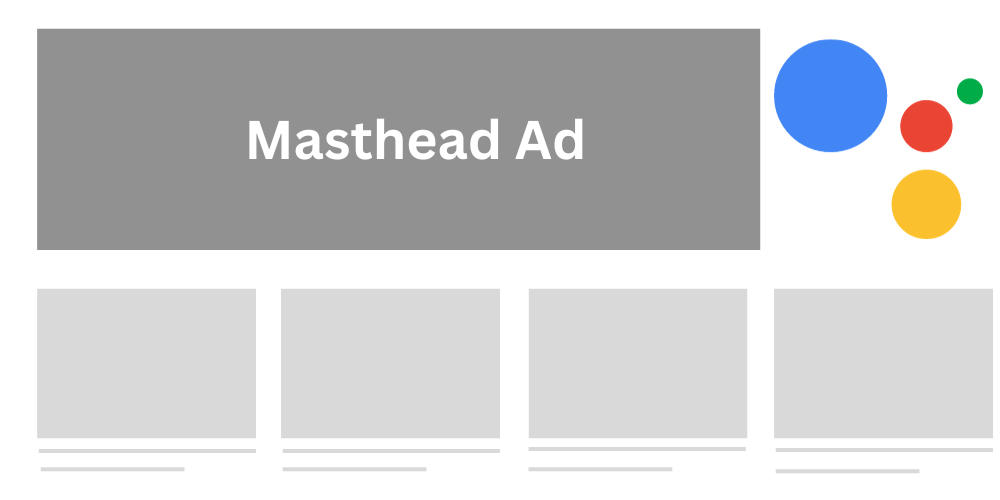 Mobile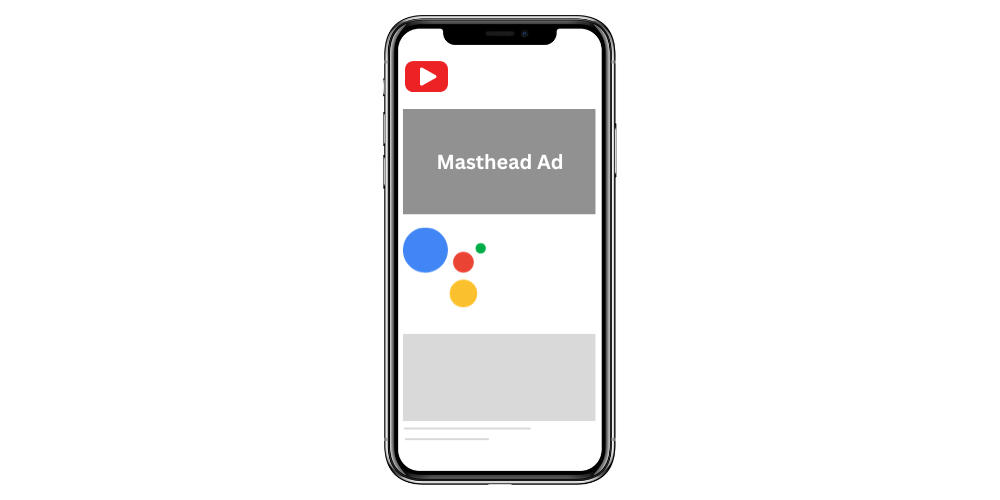 TV Screens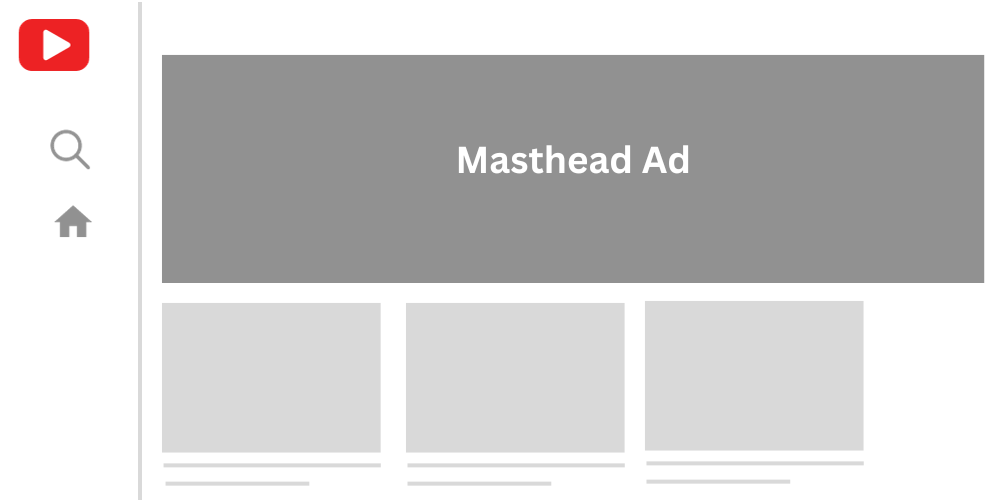 Tablet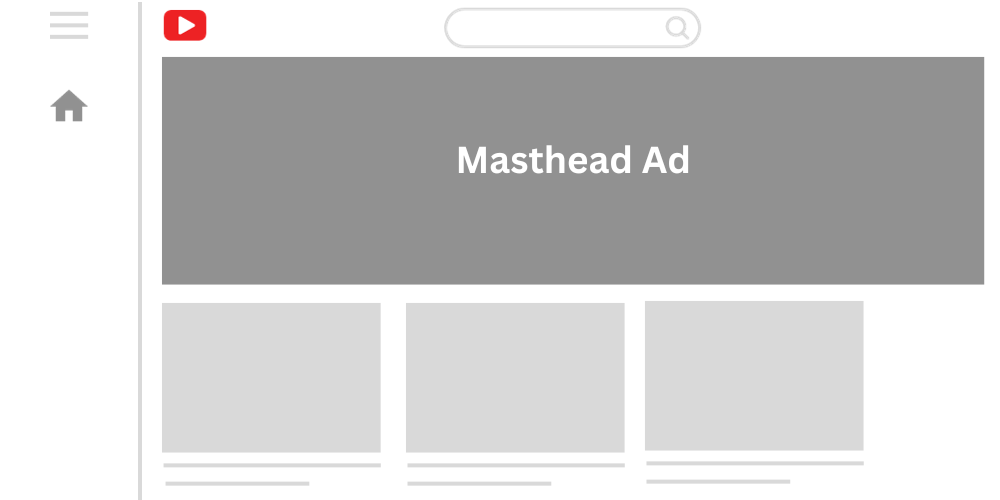 Pros & Cons of Video Masthead Ads
Like any other form of YouTube advertising, masthead ads have their pros and cons. Let's take a closer look...
Pros
Large exposure size

Greater chance for brand awareness

Enhanced user engagement due to interactivity
Cons
Typically the most expensive ad format

Broader and less specific targeting

Less creative range - must be engaging and adhere to YouTube's guidelines
Overall, if you have the budget for a YouTube masthead ad unit, it's a great way to gain wide exposure and increase awareness for your brand, service, or product.
Other Types Of YouTube Ads
There are a variety of ad types that appear in different locations across YouTube. Unlike YouTube Masthead ads, these ad formats are targeted based on a variety of demographics.
These ad types include:
Overlay Ads

TrueView Ads

Pre-Roll Ads

Display Advertising
Overlay Ads
Overlay ads appear across the bottom of a video . These ads take up about 20% of the screen, allowing viewers to continue watching content unobstructed, and can be closed by clicking the X on the top right corner.
Advertisers get paid for these ads when a user clicks the ad to view the full content.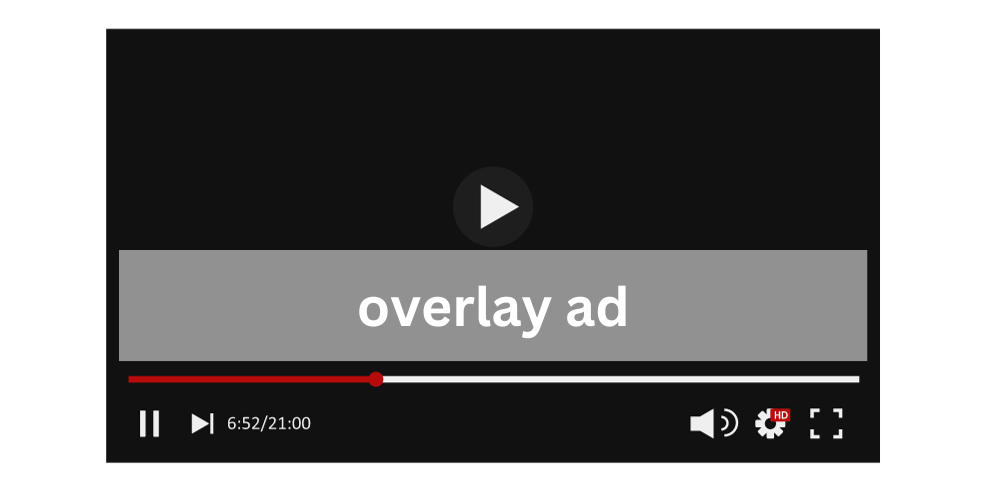 TrueView Ads
TrueView ads appear in several locations across YouTube.
Advertisers only pay a fee for these ads when a certain level of engagement is reached.
Types of TrueView video ads include:
skippable ads

non skippable ads

bumper ads

sponsored cards
Pre-roll Ads
Pre-roll ads play before the YouTube video content begins. They range in length from 15, 30, and 60 seconds long.
Once approximately 5 seconds have passed, many pre-roll ads can be skipped by the user, though others must be watched in their entirety.
Display Advertising
Display ads appear to the right of a YouTube video, and often correspond to the pre-roll ad content that appeared before the video, allowing users additional time to engage with the advertisement.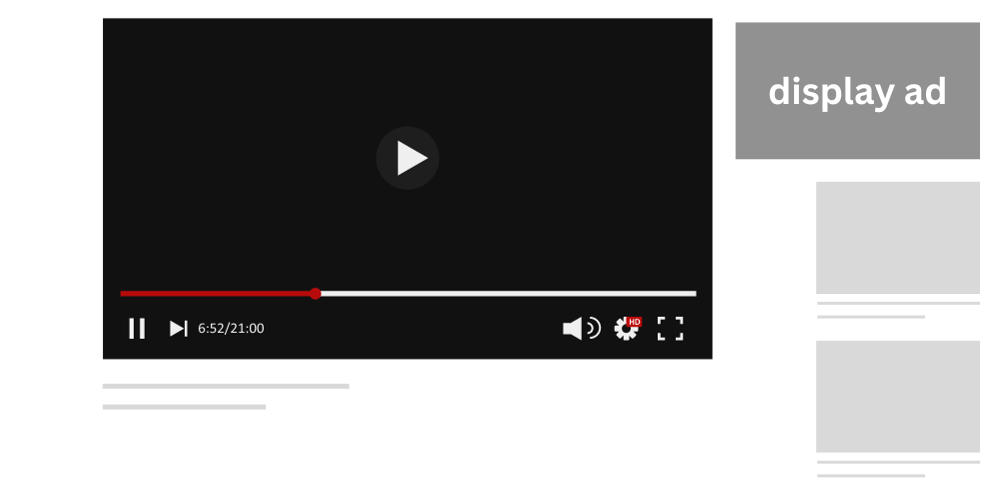 Depending on your needs as an advertiser, there are a variety of YouTube ad types to choose from. While YouTube masthead ads offer high levels of exposure, they're also less targeted and much more expensive. Conversely, TrueView ads offer more flexibility depending on your budget, along with audience targeting.