Whether you're a social media marketing veteran or just getting started with your brand or business, making the most of your social media metrics is key.
However, with an ever-changing internet landscape and algorithms that update frequently, it can be daunting to know where to begin.
Today, we've put together a few tips along with a helpful infographic to help you narrow down the social media metrics that you need to focus on depending on your specific brand goals.

Save this infographic to reference & read on to learn more!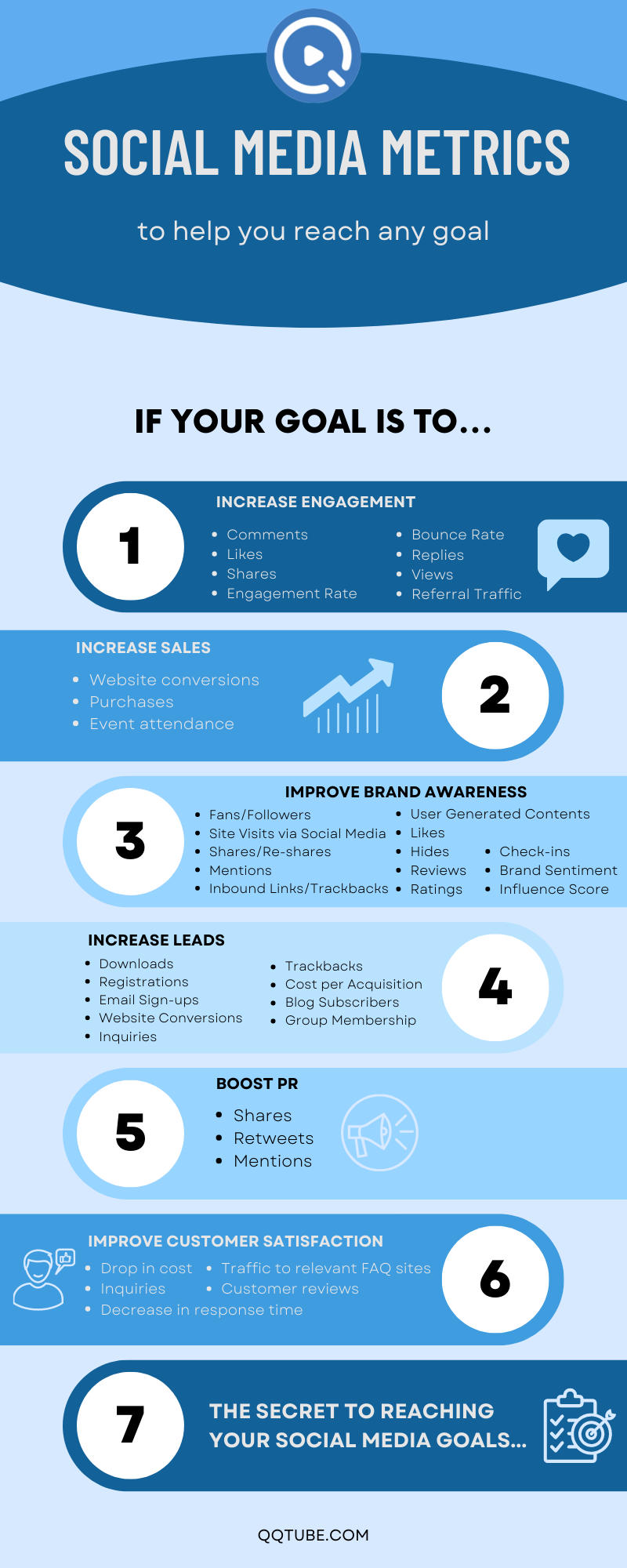 If Your Goal Is To Increase Engagement
Have you ever heard the phrase "What gets measured gets managed"? When it comes to social media marketing, this phrase is truer than ever.
Keeping track of your social media metrics can help you to increase engagement.

Here are a few metrics to take into consideration:

Comments

Bounce Rate

Likes

Replies

Shares

Views

Engagement Rate

Referral Traffic
If You're Aiming To Increase Sales
Social media is a great place to boost sales of your product or service. Whether you're selling directly from the platform or you have a website of your own, monitoring these metrics can help you reach your goals:


Website conversions

Purchases

Event attendance
If You'd Like To Improve Brand Awareness
Bringing attention to your brand can be tough, especially with so many other social media profiles competing for users' attention.

Here are a few metrics to take into consideration when aiming to improve brand awareness:


Fans/Followers

Site Visits via Social Media

Shares/Re-shares

Mentions

Inbound Links/Trackbacks

User Generated Contents

Likes

Hides

Check-ins

Reviews

Brand Sentiment

Ratings

Influence Score
If Your Goal Is To Increase Leads
Want to increase leads? Measure these metrics for the best results:


Downloads

Registrations

Email Sign-ups

Website Conversions

Inquiries

Trackbacks

Cost per Acquisition

Blog Subscribers

Group Membership


If Your Focus Is PR
When it comes to public relations, monitoring these three high impact metrics can provide the best insight:


If You Want To Improve Customer Satisfaction


If you sell a product or service, customer satisfaction is key. To check in on the quality and impact your customer service approach as well as customer satisfaction, monitor these metrics:


Drop in cost

Traffic to relevant FAQ sites

Inquiries

Customer reviews

Decrease in response time
The Secret To Reaching Your Social Media Goals…
Whether you're a social media newbie or a long time veteran, buying social media engagement is a simple and effective way to reach your goals and boost engagement.

In fact, even the most popular social media influencers and content creators buy Twitter likes, Instagram followers, YouTube subscribers, views, and much more.
If you're interested in reaching your social media goals fast and effectively, check out our Services & Pricing page to browse all available services and learn more about the benefits of each one!
Disclaimer: Rank & Monetization

QQTube is a middleman bringing together buyers and sellers.
We have no control over what will make your video/channel/account/profile rank, go viral, or trend. We can not offer any advice on this matter, we simply offer services that may help you achieve your goals. We offer no guarantees regarding the effect that the services offered on our site may have over the long-term popularity of your video/channel/account/profile.
​
We offer a variety of services from many different providers and they rarely give us specifics about how their delivery methods work. However, we do not offer or allow services that would increase ad revenue.


Check out our Services & Pricing page to view our amazing selection of social media marketing services, and our New Order page to learn more about each one!


Want even more amazing tips & tricks from the professionals? Check out the rest of our blog for even more in-depth guides and industry expertise!